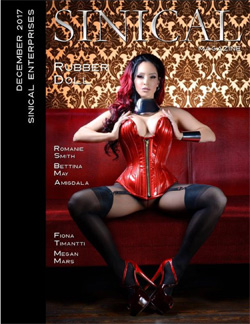 SINICAL MAGAZINE - DEC. 2017
RUBBERDOLL COVER - AUTOGRAPHED
Sinical Magazine has selected me as their covermodel once again. Just like before, you not only get me on the cover, but also a full photo spread and an in-depth interview with me as well. Sinical is one of the coolest fetish magazines on teh scene and it always features awesome photography and top fetish models. For a limited time, I am offering personally authographed copies, so place your orders quickly. Get one now before they are gone!
$25 + shipping