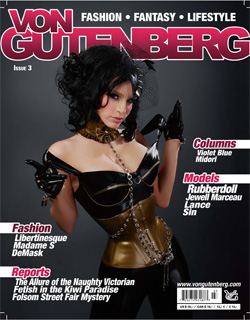 VON GUTENBERG , NO. 3
RUBBERDOLL COVER - AUTOGRAPHED
There is an exciting new-comer on the fetish magazine scene. The mag is called Von Gutenberg and it's chock full of pervy fetish pics, news, and stories. And for their third issue, VG decided to feature RubberDoll on the cover and in a beautfiul photospread/interview combo. Don't miss this chance to get a beautiful fetish magazine with the covergirl's personalized autograph!
SOLD OUT